09jan12:00 pm1:00 pmTobias E. Taba III - Cajun Story Teller & Folklorist
Event Details

Tobias E. Taba III, also known as Tom Coleman, hails from near Mowata, La. in Acadia Parish. Actually, he's from Rork, or as he likes to say across the highway in New Rork. Coleman grew up in his grandmother's farmhouse listening to tales from his uncles about the strange happenings in the nearby woods. And, of course, he had no trouble relating those same stories with embellishments as he saw fit.

In 1990, Tom responded to an open casting call for storytellers at A.R.T. Station, a local arts organization in Stone Mountain, Ga. They were looking for Southern storytellers, but it's hard to go further South than South Louisiana. Coleman became the old Cajun storyteller at A.R.T. Station's Tour of Southern Ghosts in the plantation of Stone Mountain Park. He was part of the Tour's regular tellers for 10 years and still returns as often as possible. He was recently part of the 25th anniversary celebration of the Tour.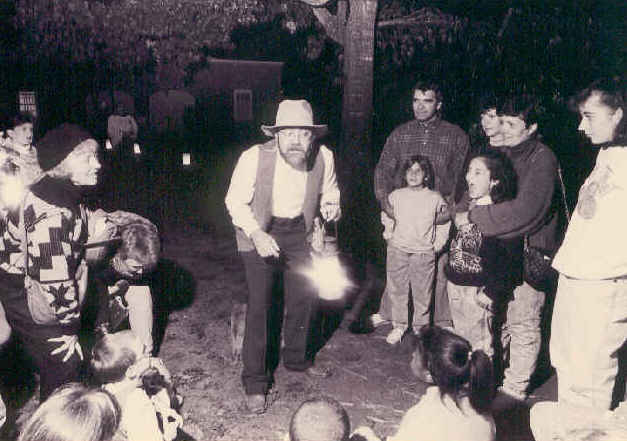 Tom was invited to the Atlanta Storytelling Festival, the Middle Georgia Storytelling Festival in Cochran, Ga., and was a teller at Caldwell Gardens, the Atlanta History Center and the Sandy Springs Historial Society among others. He has been a member of the Southern Order of Storytellers Guild, the Ocali Storytelling Guild in Ocala, Fla. and is currently a member of the Bayouland Storytellers Guild of Southwest Louisiana.
Taba has returned to his roots in Lafayette, Louisiana because he wanted to hear people without accents, and he is available for festivals, business meetings or family campfires where an inspirational story can fire up the campers or a ghost story can frighten salespeople. It's good to mix things up.
Time

(Tuesday) 12:00 pm - 1:00 pm
Location

Petroleum Club

111 Heymann Blvd, Lafayette, LA 70503