11jul12:00 pm1:00 pmRandy Haynie
Event Details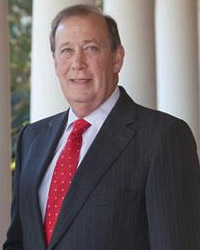 For almost 33 years, Randy K. Haynie has lobbied the Louisiana legislature on behalf of some of the state and nation's most recognized companies, professions, and associations. In the process, he has almost single-handedly elevated the status and professionalism of lobbying and government relations in Louisiana — and his track record of success places him squarely at the top of his trade.
Today, Haynie & Associates' high-profile client roster includes General Electric, General Motors, Bollinger, Fluor, Altria, JPMorgan Chase, Northrop Grumman, Louisiana Oilfield Contractors Association, New Orleans Saints, Pfizer Pharmaceuticals, NFL, and Caesar's Entertainment. In addition, since 1983, Randy owns Louisiana Governmental Studies, which publishes an annual legislative directory and a grass roots guide to lobbying the Louisiana legislature every four years.
Randy Haynie is extensively involved in civic and professional organizations, serving a wide variety of elected and appointed positions. He is also an avid collector of historic Louisiana objects, including state, parish, municipal, merchant, and bank notes, dating to the 1800s; tickets issued by the first Louisiana Lottery Company; photos of Louisiana governors and memorabilia related to their terms of office; several early maps of Louisiana; and original paintings by well-known Louisiana artists. The Louisiana collection is showcased at Long-View, Randy's Baton Rouge office that was once the home of former Louisiana governor Earl K. Long.
Randy and his wife, Daynese, have two children, Ryan and Dayna.
Time

(Tuesday) 12:00 pm - 1:00 pm
Location

Petroleum Club

111 Heymann Blvd, Lafayette, LA 70503